Skiing in Copper Mountain, CO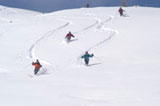 Copper Mountain offers two areas of ski instruction, a traditional ski school, and Woodward at Copper, a program designed for safe progression in the Terrain Park and Half Pipe using state-of-the-art facilities and techniques.
The ski school includes traditional private and group lessons, adult and youth seasonal programs, competitive training programs, and the Over the Hill Gang. Woodward at Copper is a year round ski and snowboard training camp that provides a safe and fun learning environment for all levels of park and pipe riders and skiers. Held at a state of the art 19,400-square-foot indoor training facility, they offer a variety of products to meet each camper's goal including classes, One Hit Wonder intro sessions, drop in sessions, and skate/bmx/inline only sessions. In the summer Woodward at Copper provides week-long residential and day camps with both on-hill and off-hill elements.
Copper Mountain is an excellent place to experience some of the best skiing Colorado has to offer.
Here are just a few resources to help you plan your wintertime actiivies on your next visit: