Fishing in Copper Mountain, CO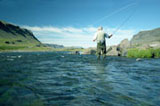 The fly fishing season runs year round. In the winter, wear warm clothes and fish the Blue, South Platte, and Williams Fork, while in the spring, all area rivers and lakes are excellent for fishing. Summer is perfect for dry fly fishing on all the rivers. In the Fall, conditions continue to be good, with fewer people and crowds.
So whether you want to go out on your own or with an experienced guide, you will be thrilled by the variety of fish available in Colorado. A Colorado fishing trip can be organized any time of year, for an afternoon, a full day, or even a week. Just grab some waders and a pole, and enjoy the beautiful outdoor streams and rivers Colorado has to offer.